11-2013
We are in the midst of a unit involving Conversational Practice.  During our group sessions we spent some time talking about good conversations that our members have had. We talk about troubles they may have run in to. Troubles aren't just message problems. Sometimes conversational troubles cause people to feel "pressured" and like they want to quit the conversation.  We discuss ways those conversation troubles could be "repaired" so the conversation can move on.
Before we break up into small groups we remind folks of ways to make conversations "more satisfying". CVAG staff helps members with:
–          Preparing a few questions.
–          Listing recent activities or photos
–         Reminding members to "extend" conversational topics with comments, such as "Tell me more".

As conversations begin, we ask members to share what they'd like to work on.  After a few minutes we "freeze" the conversations and talk about balance, interesting topics and how the conversation "feels".  When conversations are over we review topics, successes and feelings of comfort, and talk about what members may want to work on in the future.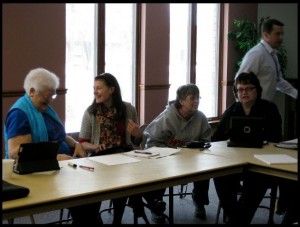 Distance Conversations:
The CVAG is pretty "wired." Most of our members use iPads.  Just for fun we decided to practice conversation over Face Time.   We made Face Time contact with friends in Iowa, in the Eau Claire area and near Spooner Wisconsin.  We arranged things so that group members would "watch" a FaceTime conversation and afterwards we would discuss topics, balance, and comfort.
Following Face Time conversations, we debriefed as a group to express and discuss feelings—including both successes and challenges. Group members also offered advice for the conversation partners. We loved this variation to conversation practice!  The connections with people outside our area ended with exchange of addresses, emails, and some texting from all group members.
We are excited by the possibilities of more regional connections with people with aphasia.