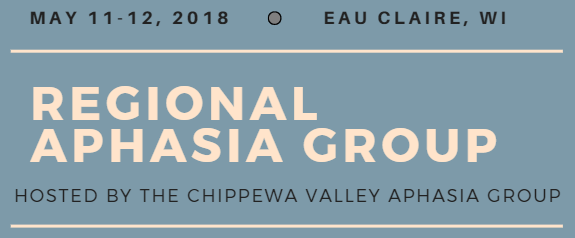 Welcome to information about the 1st Annual Upper Midwest Regional Aphasia Group.  The purpose of this group meeting is to BUILD RELATIONSHIPS, HAVE CONVERSATIONS, and SHARE STORIES with others in our area who have aphasia.
This event is put on by the Chippewa Valley Aphasia Group of the Eau Claire area.  Aphasia group members are working on the program, the arrangements, etc.
This will be one big aphasia group.  It will be a chance to meet others living with aphasia, and have conversations, with people who live in the upper Midwest.
---
We have events planned for Friday May 11th and Saturday morning, May 12th.
Friday, May 11
11:45 – 12:15 Registration at UW-Eau Claire Davies Center – Ojibwe Banquet Room
12:15 – Evening Welcome and Lunch, followed by various aphasia group activities and presentations
---
On Friday evening, there will be a supper and evening activities arranged by the aphasia group.  Those will be at your own cost.
On Saturday morning, we will have a continental breakfast (included in the Registration Cost), conversation groups, and Eau Claire activities. We will be done by noon on Saturday.
---
Cost:  $20/person.  If cost is an issue, please contact us for scholarship opportunities.  Cash or check on site.
If you can make it one day, or both days, that's great! You don't have to stay for both days.  We'd love to have you for as much time as you can.
---
To register:
Please email Tom Sather (sathertw@uwec.edu) with the following information:
Name of people attending
Best contact information
Any dietary restrictions
Days attending:   Saturday.  Both Friday and Saturday
Please note – all venue items and activities are wheelchair accessible.
---
If you're interested in lodging in Eau Claire, we have a block of rooms at reduced rate.  These are under the "APHASIA GROUP" block.                                                              1.  Hampton Inn – Eau Claire (715) 833-0003 (web link here).                                          2. Lismore Hotel – Doubletree by Hilton (715-835-8888) (web link here).
---
We will continue to post updates and information.  For further questions, or additional information, please email Tom Sather or call 715-836-4895.  A representative of the Chippewa Valley Aphasia Group will then get in touch with you shortly.
Thank you and we look forward to seeing you!
The Chippewa Valley Aphasia Group