2-2014      Self-directed Practice
During the past month the CVAG has been practicing a language action game that is similar to "Go Fish". Our volunteers took photos of objects, local places, and familiar faces. They used these materials to build a card game that group members use to practice requesting and commenting.  The rules of the game are basic, but the players are 'constrained' to use certain phrases repetitively.  Group members strive to use this limited set of words and phrases as accurately as possible.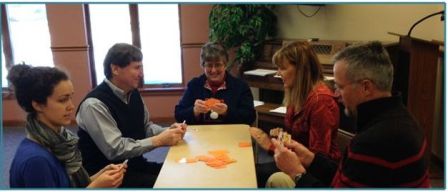 Our CVAG staff provide encouragement and meaningful support during these games. Because group members are 'learning about practice' we include everyone and encourage all to reflect on how the activity works.   Our group members indicate that "working for perfection" in this kind of practice does offer some satisfaction. It feels "good" to be more fluent.  But the supportive environment also "feels good".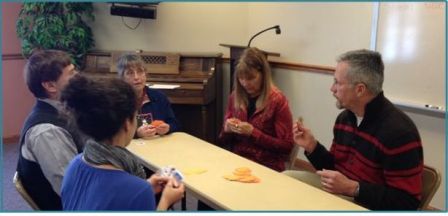 Our group is beginning to use this kind of practice across distances on the iPad.  CVAG volunteers have supplied packets of practice materials.  Several members are playing this game with each other over Face Time.  Family members are also participating in this language action game.
We also have discussed how much practice would be needed to achieve changes in naming and perhaps fluency in daily communication. CVAG staff have described research that shows benefits of intense (3 hour) frequent (5 day per week) language action practice.
CVAG staff have challenged our group members to consider how they might engage in more structured practice.  Members will consider ways to engage in social communication with partners who specifically support effective communication exchange.  An important feature of this year's exploration of practice will include action plan development for ongoing self-directed practice.